It's been a hard day's night

In the first in a series of research profiles, Brendan Beere looks at how the alcohol market has been coping with the economic downturn; results for 2009 but particularly what's ahead for the industry
2009 was a turbulent year for the alcohol industry in Ireland. Actually, that's somewhat of an understatement. Figures for the on-trade market were down by at least ten per cent throughout Ireland basis. The effects were highlighted in recent estimates from the Vintner's Federation of Ireland (VFI), the representative body for rural pubs, which reported that over 4,500 jobs were lost last year in the rural pub industry and over 800 pub licenses were not renewed in the last three years.
The drinks industry is now at a stage where more than one pub is closing every week in Ireland and heavyweight pub chains like the Thomas Read group and Capital Bars have faced liquidation. Shopping centres in Newry struggled to cope with the influx of consumers from the South - as up to ten per cent of off-trade alcohol volume in the Republic has now gone North. The social trend of entertaining more at home (X-Factor parties included) continues to intensify.
It is fair to say that a new reality has dawned for the industry players and 2010 is sure to bring further challenges and issues to face head on. The onus now is on major brands and trade bodies to deliver better value, quality, service and facilities to customers. Donall O'Keefe, chairman of the Licensed Vintners Association (LVA) summed it up recently when he said: "It's too easy to do nothing. The trade must commit to developing their businesses and improving their offer. 2010 will be a tough year. Focusing on your customers, managing the business tightly and sheer hard work will be required. There is simply no other option", O'Keefe added. Sound advice indeed.
But enough negativity, what's lies ahead? Where are the opportunities to succeed? Conservative forecasts show things improving in the industry, but slowly. While acknowledging that 2009 was a tough year, Andy Crawford, head of consumer planning with Diageo Ireland, is optimistic about the year ahead. "We reacted fairly quickly, realising that we had to. Like everything else in Diageo, we started with the consumer - how's the consumer feeling, what's going on in the consumer's mind, how is that affecting their purchasing behaviour and how can we serve them best during these times? We've seen share growth because we've served the consumer well with our brands and promotions". This was probably most evident on September 24th last year when the nation collectively rejoiced, rocked and toasted Arthur's Day and the Guinness brewery's' 250-year anniversary.
COUNT COST OF RESEARCH
The role of strong market research is fundamental for guiding brands through uncertainty. The value of uncovering powerful consumer insights continues to shape marketing strategy and drive growth. In Diageo, consumer insights are central to all brand and commercial activities and permeate all areas of the business - from marketing communications to sponsorship activities to sales.
Crawford highlights the importance of research: "In a time where discontinuity happens, people struggle. They want answers and they ask more questions. What insight does is it provides answers. Diageo is a company that runs off consumer motivations and what consumers want. All our insights start with 'consumers want' and we're about consumer motivation and to do that we really need to understand the psychology of the consumer and serve their needs."
Consumers remain challenged by the downturn but have adapted their behaviour to cope. Most have now got to grips with the new reality and have cut their cloth accordingly. But the picture this time last year was radically different. "We saw consumers who had got used to certainty struggling to cope in a world that suddenly became very uncertain," Crawford said. "Fear of unemployment, emigration, wage cuts, mortgage repayments and the banking collapse became the new reality.
"They were confusing and difficult times and they didn't know what was going on themselves, so trying to get them to articulate their fears was quite difficult and probably required more skill than ever before, because Irish consumers have always been quite forthright and clear in their views. But what we have seen as we have progressed through the recession, is that consumers have replaced the initial panic with ways of coping."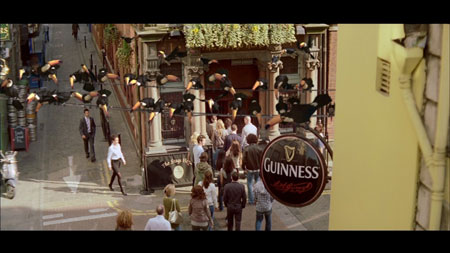 STOUT RESOLVE
Diageo was busy last year with campaigns to highlight the 250th anniversary of the Guinness brewery at St James's Gate in Dublin. Guinness Signature saw €2.50 from every customer autograph collected in pubs and bars around Ireland going to an Arthur Guinness fund to support community projects.
The consumer planning team at Diageo have worked at getting under the skin of the consumer, understanding their new fears and future hopes and motivations. The biggest difficulty in this process proved to be distilling the sheer volume of information available into something simple, meaningful and actionable that the whole business could work with. It involved intensely digesting and filtering masses of information, articles, data, and consumer research into specific output. The whole process yielded three key insights into how consumers think and behave in recessionary times. These insights continue to guide business strategy into 2010 and provide focus for brands to communicate.
"Insight is Diageo's growth driver. One of the reasons why insight works is that in addition to unlocking consumer motivation it provides focus and by focusing on a smaller number of insight driven growth drivers our brand portfolio has become stronger and more resilient," Crawford added.
RISE OF INNOVATION
Earlier this year in Long Beach, California, Bill Gates unveiled his vision for the world's energy future - zero carbon emissions globally by 2050. Zero. How are we going to get there? Gates uses the term 'innovating to zero' to describe how through changing the way we view and handle energy sources, we can change the game totally. The concept is based on the power of companies coming together with fresh ideas to improve and invent further renewable energy sources. This is an extreme case of innovation completely altering the way business is done.
At a more local level, Diageo view innovation as a focal element of their business. "I think innovation has never been more important," Crawford said. "We're seeing consumers interrogate the value equation more and more. This value is not just about price, which is where many businesses default to. What we know from our work is that most consumer decisions are made up of benefits. Benefits drive what the brand is worth. Innovation offers you more and more benefits for a fair price"
The list of innovations brought to the alcohol market over the past 18 months has been notable. Heineken was the first to offer a five litre premium keg for the off trade. Edward Dillon's Bacardi brand, like Smirnoff, has a ready to serve cocktail offer for the off-trade. C&C has overseen the success of Bulmers Pear variant and has added Bulmers Berry which is due to roll out this summer. IDL launched its West Coast Cooler Rose option, to complement the existing fruit flavour offering. Rose has proved an early success with women drinkers and indications point to further growth.
From Diageo there have been new product launches like Budweiser Ice Cold, Harp Ice Cold and Smirnoff ready to serve cocktails, like Cosmopolitan. The new Guinness black lager is currently being tested in the North, with a hope of rolling it out to the rest of the country soon. But perhaps the most radical drinks innovation in the past year has been Diageo's Pour Your Own Pint, which gives consumers the opportunity to take on the role of the barman, in the 'best seat in the house'.
The experience can be currently enjoyed in almost more than 250 outlets throughout Ireland with plans to roll it out further over the coming months. Although organic brand growth is paramount for success, product innovations will continue to be invested in line with consumer expectations. "The way we approached it is that innovation is not an option, we have to do it. Why? Because consumer motivations are changing constantly and we need to serve them," Crawford said.
MORE TO COME
It's not just product innovation that Diageo is focused on. Concerted efforts are being made behind the scenes to support the pub and to help make it more relevant to the younger consumer. Crawford and his team want to work with on-trade partners to make the pub the centre of the community again. So if consumers want to do gaming or they want to play poker or they want the cinema experience, are there ways in which the pub can do that? If people aren't going to restaurants any more, do they want good food in pubs? In recent years, gastro pubs have become more prevalent.
It will be consumers who will inevitably decide how the alcohol industry is shaped. Innovation in both the on and off-trade is forecasted to continue unabated. With consumers engaging more and more with digital media and digital content, it is felt that this area will represent a tangible opportunity for marketers and the trade to become smarter and more personal in their communications.
The next generation, for example, has already seen iPhone launch apps like Layar, which allows people to locate points of interest and information by simply pointing the camera. Technology will change the game further and the real winners will be the ones who adopt quickest and change with it.
Brendan Beere (brendan.beere@millwardbrownlansdowne.ie) is a associate director with Millward Brown Lansdowne