Capitalising on news

Hugh Oram spoke with Evening Herald editor Stephen Rae and executive editor Claire Grady
The Evening Herald is a venerable old lady, born in 1891. It made an awkward transition from broadsheet to tabloid and took a long time to switch from dull, mono letterpress to full colour web offset. But it is now ensconced as the only daily paper specifically for Dublin. Gone are the days when the capital boasted three evening newspapers.
The Press ended 15 years ago, when its circulation was impeded by clots. The Irish Times bought out and then in quick succession finished off the Dublin Evening Mail, in 1962. Around 50 years ago, the three Dublin titles sold 0.5 million copies. Today, the Herald sells nearly 68,000. In Cork, the Evening Echo is down to 22,000.
The Belfast Telegraph, also part of IN&M, has similar sales to the Herald. In the US, evening newspapers are seen as irrelevant, because of fast-changing lifestyles. Once the choice of Dublin's working classes, the Herald did a revamp to save its skin. A typical reader would have be seen wearing a cloth cap, sitting in a pub nursing a pint while perusing the racing tips. Now, the only throwback to those days is the death notices.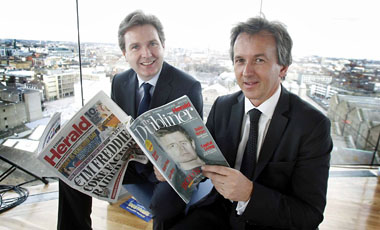 ADDING TITLE
Stephen Rae, editor, Evening Herald and columnist Michael O'Doherty. The idea of including The Dubliner listings magazine in the paper's Thursday edition was to add value and attract new and younger readers as sales come under more pressure.
Stephen Rae, editor for over four years, said that changes have been made to the paper over the past decade in a bid to attract a younger audience, with a female bias. Out of its 260,000 readership, 90,000 are ABC1s. Some 54 per cent of readers are women and nearly half are under 40.But, Rae pointed out, older readers have stayed with the paper and have not been alienated by its more youthful character.
The typical Herald likes to read about celebs, probably dips in and out of the paper on the day of purchase and maybe even the next morning. Rae is in charge of the country's highest number of young journalists. All sub-editing is done in the South of France. Production starts at 5.30am, with the first edition off the Citywest printers by 10.30am.
Around 95 per cent of sales are in the greater Dublin area. Rae, 43, is from Castlemaine, Co Kerry. He studied journalism at DIT. The paper covers every court in the greater Dublin area. While some people would claim the Herald overdoes it on crime, Rae says it is important and people find it fascinating psychologically. It is no surprise that he would say that given he is a qualified barrister and a former editor of the Garda Review.
The weekly Polish supplement has been replaced with half a page a week. Executive editor Claire Grady said they have broken many stories, like the financial scandals at the Dublin Docklands Development Authority. Columnists include retired Special Branch member Gerry O'Carroll, Michael O'Doherty of VIP and Anna Nolan.
Con Houlihan, 84, turns in beautifully crafted copy once a week. The ever-so-shy Kerryman was a GAA writer on the Evening Press for many years and was renowned for starting his column at 4am and writing all his copy by hand. Sport columnists include John Giles, while Pat Stacey provides TV critiques which are suitably hard-hitting.
The slip in Saturday sales to 40,000 is a worry. Rae said that it reflects just how things have changed in newspapers. In the good old days before 24-hour media and mobile phones, evening papers were bought in big numbers for the sports results and TV listings.
As Grady said, people want to know who got us into this mess, but they can't be angry all the time, so the paper tries to highlight positive elements. In the recent past, INM openly supported Fianna Fáil, but that's not largely history now. Rae said they campaign for Dublin and Dubliners and while they take a stand, they are not party political.
The paper may become even more of an all day paper, so much so that the word 'evening' may be dropped from the masthead. But Rae does not envisage the paper following the lead of the Evening Standard in London, where Russian oligarch Alexander Lebedev turned it into a freesheet and beefed up its circulation to lure advertisers.
Rae said the Herald is profitable in its own right and makes a good contribution to the INM bottom line. While INM originally launched the Herald AM freesheet as a spoiler to the Metro, the merged Metro Herald appears to be doing okay. But, he added, if readers want more in-depth news and analysis, they buy a copy of the Herald.
Grady said that competitors are not other newspapers as such but people's time. There are Herald sellers at main traffic hubs in the capital and there are more home deliveries. One of the paper's most recent commercial innovations is a regular money savings coupon booklet offering readers thousands of euro off various products and services.
There are tie-ups with the GAA in Dublin and Leinster rugby. The Herald teamed up with Dublin Bus to support the country's biggest amateur sports group, the Dublin & District Schoolboys League. The herald.ie website now has over 2.5 million page impressions and its almost 500,000 unique users pull in readers to the printed paper.