A results driven agency
For Aidan O'Connor and Neil McKenna of Kick Communications marketing is about promoting client sales. They spoke to Michael Cullen about their past and what plans they have for the agency, promising ideas, service and results
Kick came out of the merger of Index Creative Communications and Inventive Marketing. The principal directors of the respective agencies, Aidan O'Connor and Neil McKenna, had been in talks for about a year. Index had ventured across the marketing services field, while Inventive stuck mostly to promotions and direct marketing.
Collectively, Kick is not about 'above the line', 'below the line' or even 'through the line'. They don't believe in any line. The agency is in the business of providing marketing communications solutions across the board and on that they are judged.
O'Connor says consumers don't see 'lines', so why should agencies? Some people believe the whole idea of creating 'lines' is so larger agencies, which make a song and dance about giving an integrated service, get an opportunity to convince clients to spend more – some on media, some on branding, promotions, PR, DM, or whatever.
O'Connor says that consumers can't tell the difference between below the line and media. To them everything is an ad. It might be on TV, in a newspaper or on a flyer that drops in their letterbox, but it's still an ad. Agencies don't need to complicate things.
O'Connor worked at Dimension, an agency group which believed it was the panacea for all marketing ills. He recalled a client one day saying to him: "Listen, you're my account director. I want to come in and talk to you and discuss the big picture. If you need me to talk to others in the agency, fine. But don't have me traipsing around to ten meetings."
If a Kick client is inclined to favour TV and it fits the needs, they will say so. Likewise, if the client has a budget and requires a job done where a promotion appears to provide the best answer, Kick works in that direction. What matters most, if the campaign is shown to result in driving sales, it can only enhance the client-agency relationship.
McKenna doesn't believe that the creative role doesn't stop at the creative department. Creative is not just about the pretty picture, it's about using flair in how you seduce consumers. The creative thought for a client can come from the admin person. For McKenna, the word advertising is flawed – it's more to do with marketing and selling.
So why Kick? After coming up with about 20 names on a piece of paper following a morning session, they settled for Kick Communications. Kick was chosen as they wanted something new and it depicted energy as in "kicking ass". With the economic downturn the country is now unfortunately battling, the moniker has taken on greater thrust.
O'Connor says the feedback to the agency name has been great. While chatting to people at the Marketing Society Christmas lunch he was told they liked the name Kick as it was short, sharp and dynamic. Even before the economic climate changed last year, O'Connor and McKenna had seen how marketing communications was going through a big change.
ROADS RUNNER

The National Road Authority (NRA) hired Kick to launch the eFlow barrer-free tolling. The agency came up with the brand name and devised a national broadcast and print campaign explaining what barrier free tolling was and why they should open an account.
Things have got to be done in a different way, O'Connor says. To drive sales, messages have to be more pertinent. Clients want to see more accountability. McKenna says the process has to be speeded up and there needs to be more agency consolidation.
"There are way too many agencies," McKenna said. "The market's not big enough for all the one and two-man shows – and that's the way it was even before the present situation. It's not saying that the smaller agencies or the bigger agencies are doing the wrong thing, it's just the fact that there isn't enough room in the marketplace – especially right now."
In terms of pitching for new business, Burke says that in an ideal world it would be right that client should pay for pitches to all but the winning agency. On the other hand, an agency is not under any pressure to pitch, so if they don't like the rules they can opt out.
He is the first to admit that there are some clients out there whose only intention of asking agencies to present is to trawl for new ideas, they have little or no intention of possibly appointing a new agency. But that practice comes back to bite those clients as Dublin is a 'village' and the word gets around pretty quickly as to who are the culprits.
Both Index and Inventive had been members of the various industry bodies down the years but it was only a year ago they signed up to IAPI. From a lobbying point of view, they have the height of respect for IAPI but ideally they would like to see one group representing the interests of all marketing agencies. Again, Dublin is a small place.
O'Connor believes that a lot of agency growth is done organically and that by fostering relationships and getting result for existing clients, the business grows anyway. Kick expects to have a turnover of over €4 million in their first 12 months trading.
When O'Connor was at Wilson Hartnell, the mantra was you get a client, you treat them well and you grow with them as well. Their first slide was all about client relationships and how long they had worked together – 14 years, 17 years and so on. That's what they sold themselves on. If an agency is doing a bad job, the longevity factor won't exist.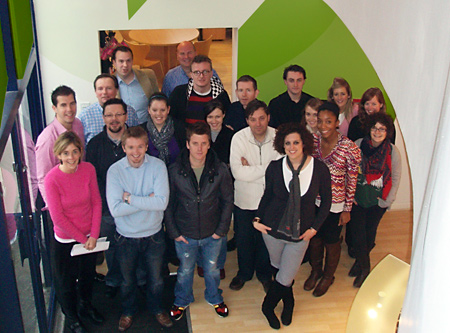 KICK'S TEAM
Front row: Kate McKenna, Ferdia Young, Bevin O'Shea and Dena Walker.
Second row: Dave Burke, Ian McColl, Emma Stevenson, Eva Tomasaka, Richard Heffernan, Kerrie O'Sullivan, Shireen McDonagh, Helen Spencer.
Third row: John Breslin, Ian Pearce, Garrett Byrne, Justin O'Hanlon, Jessica O'Hanlon, Hazel McCague. Back row: Neil McKenna and Aidan O'Connor.
Not pictured are Cathryn Fox and Sarah Bradshaw.
McKenna says that of the three things Kick promises clients – and prospective clients – results is foremost. If it works, it's creative. The idea is only as good as the results it produces. It could be best creative around but if it doesn't have resonance with the consumer, it's wasting time and resources – which can't be excused these days.
When asked what campaigns beyond Kick's range he most admires, O'Connor says that that's the question in these sort of interviews he likes the least. It brings him back to when Michael Hayes lectured him in advertising in Rathmines. O'Connor hadn't a clue then and he still finds himself flummoxed when the same question is posed today.
He is more forthcoming to give an opinion on award schemes. "Overall, they do help creative standards," he said. "But we've never gone out to seek awards. If we've had work that we believe merits an award, or the client thinks so, we put it forward okay."
Burke gets back to awards that salute performance and results. Any ad, even it's a minnow of a package redesign, that deserves an award in itself. It should not just be about the look, feel and awareness – it should be about what it delivers to the bottom line.
Both O'Connor and McKenna believe that people in marketing services could be doing more to help boost the status of marketers in business. More efforts needs to be made to get rid of the marketing department as the flower arrangers. Marketers need to be taken more seriously and be seen as business consultants offering sound advice at board level.
Kick does not have a culture where they head off to South Africa 15 times a year for commercial shoots. Staff don't have such expectations. But when it comes to getting results and increasing client sales figures, they see themselves in the Premier League.
MILKING IT

Kick used an image of a Blade Runner-type vixen character to promote drinking milk and the dairy product's naturalness. The campaign for the National Dairy Council (NDC) included a number of executions across print, radio, outdoor and digital.