NEGOTIATING MAZES

GREG MARTIN ON INTERNATIONAL PUBLIC AFFAIRS AGENCY HUME BROPHY
A PR guru who specialised in public affairs once said that looking after a client in this most complex of professional worlds was a bit like guiding somebody through the tricky maze seen in The Shining. You have to have the confidence and authority to lead the person in the right direction while at the same time make sure you do not get lost yourself in the labyrinth. John Hume does not see himself as a guru but these days he finds he is spending more and more time in mazes.
The son of the former SDLP leader, MEP and peace activist of the same name, along with his business partner Eoin Brophy are behind a Dublin-headquartered PR agency whose influence is felt in London, Brussels, Paris and Singapore. The duo lead the 70-strong Hume Brophy public affairs agency. Hume was recently in Brussels as the elected European institutions breathed their last before the summer elections and a new round of laws, statutes and mind-boggling regulations.
Brophy was in London, where he leads specialist public affairs and healthcare teams from an office in the heart of Fleet Street, once the epicentre of the British newspaper industry. Their business, founded eight years ago, is ready to ride the wave of the upturning world economy. Hume strolls around his Brussels office contemplating the maze analogy and the magnitude of the European structures. The offices deep inside Brussels' bureaucratic office blocks churn out hundreds of thousands of words which may have a profound effect on how Europeans live their lives.
Laws, rules and regulations spew from computers into the cyber-space of the EU in wave after wave of statutory adjustments. By the time they land on the desks of business leaders, bemused execs often find that either they cannot understand what they mean, or it is too late to do act on them. The complex world of European regulatory affairs can in one stroke of a bureaucrat's pen decide upon the future of many Irish companies struggling to make sense of new European laws.
When is a yogurt not a yogurt? Can I still use traditional lead slates on the roofs of the new housing I'm building? Can the marketing boss say the new packaging is genuinely eco-friendly? Where can he get a grant for that new product line? Why must he spend a fortune putting in new equipment just to comply with crippling new health and safety rules? And how is it that one small regulation which we knew nothing about now means we are at a serious disadvantage to our competitors?
Blink and you miss a new law that could change your business life forever. Hume sits at a desk in his office overlooking the Brussels parliament building. "Few people realise what happens there", he says. "There's a continuous stream of regulation coming out of that building that deeply affects every single Irish business in one way or the other. The sad thing is that many companies don't know what's going on until the regulation is passed when it's too late to do anything about the outcome. Before they know it, they have to tear up their plans and start all over again."
One day, it might be okay to put lead on roofs of houses, the next day there is a ban. Two years ago tens of thousands of suburban gardeners were using a well-known weed-killer but today the same brand is outlawed. In the equestrian industry, not too long ago, stables were cleaned with a well-known disinfectant. Today the product is banned and it is illegal to even have it in a stable. For an industry worth hundreds of millions of euro to the Irish economy, it is a serious matter.
Hume says that in the financial services and legal sectors the regulatory landscape is changing almost weekly and companies working in these fields have to be up to speed if they are to have a future. Part of his job is to guide companies and organisations through the maze of rules and regulations which emerge from the European Parliament. From small beginnings – Hume once worked as a barman in the iconic Brussels pub Kitty O Shea's – the agency recently cast its net in the direction of Asia by opening an office in one of Singapore's leading business districts.
Former British Telecom (BT) executive Una McGirr was headhunted to launch the Singapore office with the working title managing director of Hume Brophy Asia. She left when offered the job of executive director of The Farmleigh Fellowship. El Lin Yeoh, a local PR consultant, is now in charge in Singapore, while Mary Clarke heads up the company's international healthcare team.
The London office is managed by Robert Condon and Maria Cryan runs the show in Dublin. Dr Kevin Bradley provide client advice on issues relating to the environment, natural resources and energy. Chairman Michael Brophy needs little introduction in Irish media circles, having worked as a journalist and senior executive in Independent News & Media (INM) for many a year.
A former Sunday World boss, he marshalled a restructuring of operations at the Belfast Telegraph. He served on the National Newspapers of Ireland (NNI) board and was an industry committee member which established Ireland's Press Council. Former senior executive with the European Civil Aviation Conference (ECAC) in Paris Gerry Lumsden advises clients on aviation matters.
Eoin Brophy recalls the two partners pitching their tent in Dublin eight years ago. "I remember sitting in a badly furnished office in Merrion Square and thinking: My God, we've no clients!" He cut his financial teeth at the London City agency Gartmore. All has changed and the Dublin office is now effectively the group HQ. While the agency is reticent about divulging clients, they are prepared to name half a dozen. Among their clients are Adobe, Camelot, Fujitsu, the Irish Funds Industry Association (IFIA), the International Rugby Board (IRB) and Shire Pharmaceuticals.
As most PR practitioners would concur, the public affairs universe has changed dramatically over the past decade. The days of the pretty girl photocall for a new brand launch has given way to strategic mapping and operational guidance for no-nonsense clients. Those in financial services and public affairs no longer resemble the Sidney Falco press agent character Tony Curtis played in Sweet Smell of Success. Nowadays, advisors must have business degrees and be multi-lingual.
"We're not alone in seeking out the highest qualified staff," Hume says. "The industry has been revolutionised and everyone has had to change. Only the best will survive. Clients have become far more demanding and they expect their advisors to operate at the same level as themselves, providing intelligence and analysis that can give them an edge over their competitors."
Hume Brophy recently hired former MLA for South Belfast Conall McDevitt. A former SDLP member and a possible future leader, he resigned from the party in some controversy last year. McDevitt was with Weber Shandwick in Belfast for over five years and headed up the agency in recent years. With lobbying skills as part of his arsenal, he says PR firms specialising in public affairs must realise the amount of services demanded by clients nowadays is ever increasing.
The internet and social media is a given. But more companies with exposure to public affairs want political guidance and indicators. "They want to be fully briefed on the political climates in markets in which they are operating across Europe," McDevitt says. "They want sound regulatory guidance and they need to understand fundamentally the things that will impact on them."
Companies employ not only highly-qualified PR professionals but entire back-up teams composed of lawyers, former politicians, retired regulators, journalists and people with detailed knowledge of the areas in which clients are already developing or wish to enter. McDevitt says it's as simple and complicated as that. Hume is upbeat about the prospects for public affairs experts.
The recession has seen a lot of fall-out but in the end. Business executives who know what they are doing and are capable of changing and adapting have withstood the hammer blows and emerged on the other side as leaner, strong and more efficient units better able to service their clients. It was Machiavelli who said the toughest thing that a man will encounter in his life is change. Hume agrees. Those who see it coming and embrace it are the ones that eventually succeed.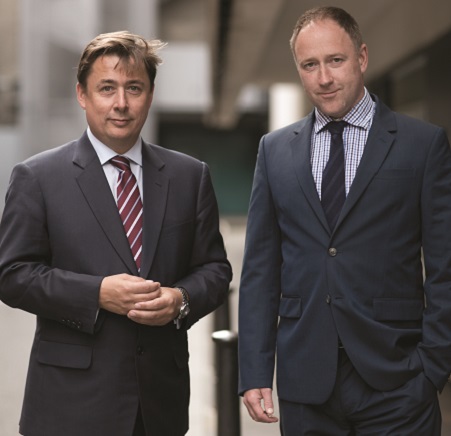 POWERS OF INFLUENCE
John Hume and Eoin Brophy head up public affairs specialists Hume Brophy. Apart from Dublin, the company has offices in Brussels, London and Singapore. The agency's website outlines the main public affairs and PR services provided are in media and targeting investors, influencers and governments. The agency handled a pre-Budget campaign for NOffLA off-licenses body.