CONSIDERED COMMUNICATIONS

MARY DOHERTY ON HOW RUNNING A CREATIVE AGENCY HAS CHANGED SO DRAMATICALLY IN 20 YEARS, WHEN RED DOG FIRST CAME TO PASS
When Red Dog first opened its doors on Thomas Street in 1993, little did we know where it might take us. The company name came about because everything in that run-down part of town at the time appeared to be painted red. Design agencies in the US were using animal names, so we thought, why not do likewise? Using a colour and an animal in a name prompts an endless flow of clever taglines. Nowadays though, less heed is paid to agency names.
I can recall at the time commenting: "I can't imagine a 50-year-old man in a suit saying 'let's ring Red Dog'." But we were young and adventurous and just out of NCAD, so it suited us. Red Dog grew during a time when there was no internet, email, colour printers or mobile phones. Today, we operate in an entirely different world where immediacy – or rather its expectation – has created some complications for our industry.
Digital can mean that you are perceived to be open for business 24/7. But we learned that this is not so. Our work is not magic, not the simple press of an Apple Mac button. It takes time, consideration, discussion and trial. When the recession struck, we had a decision to make. Do we open all hours, churning out less than satisfactory creative, or do we dig in our heels and keep explaining that more time is required to get the right result for our clients?
From the start, we favoured a no-nonsense approach to business. The ethos is reflected in a line we still employ: 'Design that works. No fuss'. We earned a reputation of being easy to work with; no frills and flounces. It's my Donegal call-it-as-it-is mentality! We'd define what the client wanted and do all in our power to get it for them.
Everything in design must be underpinned by a good idea. We have 17 staff, but that's just in the office. As well as that, we collaborate with other creative talent in the form of writers, illustrators, strategists, producer, digital and PR experts. The focus now is shaping a new model which steers away from being graphic design led and which relies on multi-talented teams for the integrated projects we handle. Things are much more exciting and Red Dog is quite a different creature today.
The 'more time' choice won out and we did the right thing. The last five years have made us stronger, more aware, responsible and creative. We opened an online store and an office in New York. We hired, updated our hardware, our management systems and restructured our business. It's been testing, but it works. Our client offering is moving in a new direction. We now also cover brand strategy, writing, advertising and animation. Design now means wise communications.
Clients with communications and positioning challenges call on us. They know their business inside out but they turn to us to make sure the message hits home. They have amazing stories to tell, particularly the non-profit organisations, they just need the professional expertise to help them do it. With charities under such pressure, they need all the help they can get.
From a personal perspective, 20 years' experience helping clients affords me the luxury of actually knowing what I am talking about – my apologies to clients circa 1993-'96! I'm really enjoying working with a wide array of clients and suppliers in so many diverse ways. We would like to take this opportunity to thanks all our clients over the past 20 years – you have helped form what we are today.
Our hard work over recent years has paid off and we have come out the better for it.
The efforts everyone at Red Dog has put in are much appreciated, leading to an excitement again with new clients, new people, new strengths. The average length of service at the agency is nine years. Young recruits keep us on our toes. For me, I'd like to start working the four-day week I was supposed to have started when my second son Oisin was born in 2009. Two decades is a long time to run a business, but 40 years sounds just about right to me.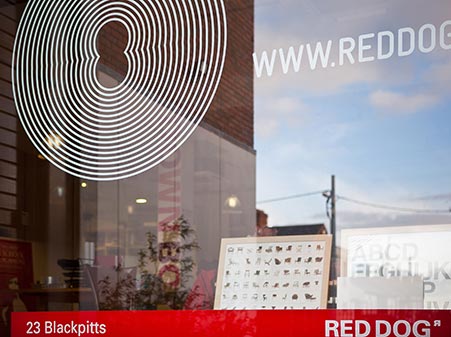 AGENCY REBRAND
Red Dog created the new brand identity for Red C market research. Other agency clients, include KBC Bank, The Atlantic Philanthropies, Davy, Irish Medicines Board and Glanbia. Red Dog has just rolled out a major new advertising campaign for Emo Oil.
Mary Doherty is managing director of Red Dog