POSITIVE DISRUPTION

FINIAN MURPHY REPORTS FROM THE SXSW CONVENTION
Every year, up to 100,000 people from advertising, tech, music and film converge on Austin, a creative hub in the state of Texas for the annual South by Southwest convention, better known as SXSW. Making a return to the city this year, I co-hosted a panel on what the music industry could learn from branding, tech start-ups and innovative thinking. Alongside Irish Times music writer Jim Carroll, we discussed the term disruption, constantly used by start-ups when proposing new business models. But instead of focusing on the difficulties the music industry has faced since Napster a decade ago, we wanted to focus on constructive disruption – positive ways the music industry can adapt and innovate.
So what did we learn from five intense days of debates, talks and presentations? There is always a hunger from participants to hear about the latest technology, social network or mobile app, but this year there was more discussion about how consumers are not necessarily adopting new tech but instead discussion on how they behave with it.
Unknown to the world, Twitter launched at SXSW in 2007. Six years later, Twitter was discussed as an important part of measuring engagement with TV shows. As consumers have embraced 'new' media, there is an abundance of data. I listened to Foursquare's founder Dennis Crowley talk about how their 30 million users have added three billion POIs (points of interest) – reviews of retailers, brand events, cafes or hotels – creating an entire new layer to apply over our traditional mapping. But finding the signals within the noise of data will become increasingly important. New York Times political analyst Nate Silver has predicted the last number of US elections by analysing available data. He showed how data is nothing without good storytelling.
Stories are a crucial part of the success of the sharing economy with businesses created on people trading products or services. A panel with AirBnB, Etsy and RealityRides described how people are using their services not just because they are good offerings, but because they receive a good story about a place, a crafted product or a unique car. A shared experience with a story was a prominent theme in the talk on pop (up) culture, the growth of pop-up shops and cafes. Pop-ups are not simply about availing of cheap rent, but also provide an opportunity for brands to test an offering or tell a new story. The Gap has been testing its new Pipeline range through a new retail space, with great success.
What quickly became evident in the first days of SXSW 2013, was that unlike previous conventions it was not about the latest website, app or social platform, but a return to the real world, tangible objects, utilities and experiences that affect people. There can be an emotional void in the digital age and this is a key moment to re-introduce emotions and storytelling into brands, which are operating online or engaging in digital marketing. At the talk titled Embracing Analogue: Physical is Hot, JWT research showed how more 20-40 year olds are now seeking products and services which bridge the physical and digital world. While they are digitally savvy, sharing brand experiences online, they also need real-life brick and motor shops.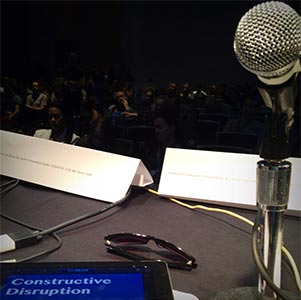 HARD SELL AT SXSW
Brands are everywhere at SXSW. Doritos had a 62-ft high stage decked out as a vending machine. Buildings are repainted in the livery of brands such as Spotify and Samsung. The parties and gigs all have a headline sponsor. New and established acts rely on sponsorship, but most of the budgets tend to go on well-known performers.
It was no surprise that three innovations which bridge these worlds would be the most talked about this year – 3D printing, leap motion and Google Glasses. 3D printing is revolutionising every sector from printing fashion items out of plastic (bags and clothing) to printing medical devices. GeoMagicInc's PuFing has created an affordable printer, cubify, hopes to have one in every American school across the next five years to allow kids create objects from digital files. Leap Motion was the most talked about product launch. It is creating a mouse free way to interact with screens. This technology will have huge benefits for retail spaces, allowing users to interact with products on screen with hand gestures. Google Glasses was launched for $1,500. It is a product blurring the lines between the physical and digital world. While it will be a few years before the average guy on the street wears a pair, Google Glasses puts a screen of info (and relevant advertising) into the sight of anyone who wears them.
SXSW was about the real world this year. It was about stories and the emotions they create. It was not about the social networks people will be using on desktops but about the networks created in the real world, which happen to have digital as part of it. Digital is now the mainstream and there was a mutual understanding among the geeks, brand marketers, agencies and artists that ideas will only work when the behaviour (online or offline) of people is considered and is matched with a great story that triggers emotions (online or offline).
Let the coders and creatives unite.
finianmurphy@irishinternational.com
Finian Murphy is a planner with Irish International BBDO, working with brands such as Diageo, NFL UK and Mars Europe. He spoke about marketing innovation at SXSW