KEEPING IT COUNTRY PAYS DIVIDENDS FOR SOFT DRINKS STRATEGIST
BRITVIC'S KEVIN DONNELLY VOTED MARKETER OF THE YEAR 2012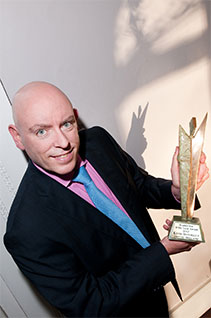 The man who put the fizz back into some of Ireland's best known soft drinks brands has been named Marketer of the Year 2012. Kevin Donnelly, marketing director, Britvic Ireland, won the industry's top award for his commitment to a localised strategy centred around the Miwadi, Club Orange and Ballygowan brands. The judges were impressed by Donnelly's belief in marketers as leaders in turning a business around and his willingness to make bold decisions while never losing sight of the commercial needs.
A part of many kids childhood, Miwadi was slipping down the list of 'must buys' on shoppers' lists two years ago, with sales falling due to stiff competition from brands such as Coca-Cola's Fruice and discounted private label drinks and the increased price of fruit adding margin pressure to an already difficult sector. Miwadi had become bland, lazy in its communication with poor packaging and it was over-reliant on nostalgia.
Donnelly devised a three-year plan to revitalise and reposition Miwadi. He and his team looked at the brand's functional and emotional proposition, devising a new essence in Tir na nOg and asking mums why they were not buying the brand as often as before. Using these insights, the brand was reinvented. A squash with only natural ingredients, new packs and Wadi-festo and Miwadi My Way campaigns were rolled out by Cawley Nea\TBWA.
Online, a micro-site inviting consumers to mix and match new Miwadi flavours. The brand bounced back to claim a 47 per cent share of the squash market. The Club Orange brand faced its own issues. Coke's Fanta orange dominated food services and the reality was a whole generation of Irish consumers had never tasted Club Orange. Sporadic investment in the brand meant that it was less defined in consumers' minds than Britvic would have liked.
Further research showed that a younger audience felt excluded as Club was associated with older consumers. Donnelly adopted "courageous targeting" – seeing a market and going for it. He devised the five Bs – buddies, beer, books, burgers and birds – elements that attracted a younger target market. The five Bs informed the development of the Best Bits advertising campaign by Chemistry. The posters fell foul of the Advertising Standards Authority.
The effect of this work saw Club Orange overtake regular 7Up and placed it second only to Coke in 'on the go'. Donnelly said he was delighted to win Marketer of the Year, especially as it is given by his peers in the marketing industry. Marketing has become all about delivering profits and growth. Continual tracking and measurement allied to profit responsibility helps the process and that has guided Britvic in Ireland.
New Ballygowan packaging was rolled out and Cawley Nea\TBWA created new ads for the brand. Ballygowan Pink was launched in 2010 as a cause-related campaign targeting 25 to 45 year old women, which was run in tandem with the Marie Keating Breast Cancer Foundation. Donnelly thanked his marketing team and singled out head of marketing Debbie Vard and head of the company's on the go operations, Sharon Yourell Lawlor, for special mention.
The three other finalists for this year's Marketer of the Year were Brendan McEvoy, general manager marketing, Irish Life; Amie Peters, head of direct mail, An Post and David Field, group head of marketing and retail development, Eason. Marketer of the Year was launched by Marketing.ie in 1993. The first winner was Cadbury's Liam Marnane for Time Out.
Alternatives, the recruitment agency run by Sandra Lawler, has sponsored the award for the last seven years. For more on the Marketer of the Year and photos from the awards lunch in the Cliffhouse Restaurant in Dublin, check out the November issue of Marketing.ie.
THIS YEAR'S FINALISTS
In addition to Donnelly, there were three other finalists for the title. They were Brendan McEvoy, general manager marketing, Irish Life; Amie Peters, head of direct mail, An Post and David Field, group head of marketing and retail development, Eason.
Brendan McEvoy, general manager marketing, Irish Life
Getting to grips with a fast-changing retail life assurance and pensions market amid major cost-cutting initiatives was the challenge facing Brendan McEvoy at the start of last year. While forced to reduce the company's advertising spend, he had to be inventive in convincing more people to take out protection plans with Irish Life. McEvoy's strategy resulted in consolidating the company's lead position in a fiercely competitive market, achieving as many as 50,000 new recruits, an increase of 20 per cent year-on-year.
"We're challenging customers who are living longer to ensure they put proper plans in place for their retirement" – Brendan McEvoy
Amie Peters, head of direct mail, An Post
Amie Peters was hired by An Post to head up a new unit to develop direct mail in Ireland. She devised plans aimed at putting direct mail on corporate agendas and competing head-on with the growing threat posed by digital marketing and new media. The offering included the roll-out of new and expanded marketing services in PostAim discount direct mail and personalised postage. The latest NPD service for SMEs is Admailer.ie, which bundles data and targets creative print and post into an online easy-to-use solution.
"Admailer.ie is the biggest new thing in small business marketing in Ireland" – Amie Peters
David Field, head of marketing and retail development, Eason
David Field led the campaign to reposition the Eason brand. The aim was to reinvent the shopping experience and define the brand as a credible multichannel retailer. In 2010, 75 per cent of customers had not shopped with Eason online. With the help of a new loyalty programme, rebranding, modernised stores and a stream of online initiatives, Field radically improved the company's fortunes. The 2012 Reptrak corporate reputation study rated Eason sixth of 101 companies in Ireland and second among Irish-owned firms.
"Retail in Ireland is far from dead and consumers will always seek out a richer experience, whether online or in-store – David Field
JUDGING PANEL
Chairperson: Dr Damien McLoughlin,
professor of marketing, UCD Smurfit Graduate Business School
Pat Kiely, commercial director, TV3
Carol Fanagan, business strategy director, Red C Research
Jamie Helly, managing director, Dynamo
Carolyn Odgers, marketing consultant
Aidan Power, head of brand, marketing and e channels, KBC Bank
Rosita Wolfe, head of marketing & communications, National Concert Hall
John Mitchell, managing director, Strata3
Claire Cluskey, director, Empirica
Liz Rowen, head of marketing, Aviva Healthcare
Brendan Smartt, country manager – Ireland and Scandinavia, Innocent