Stars bigger than RTE itself

Kevin Rafter says RTE management should change how it deals with its top presenters
It is difficult to believe now but throughout the 1990s RTE steadfastly refused to publish information about its top earners. Requests from various governments and the Oireachtas Communications committee, to which RTE is answerable, were flatly declined. The station essentially hid behind the excuse that confidentiality clauses in the contracts of its top on-air talent were legally binding.
The stance changed somewhat in 1999 when the government made it clear that a licence fee increase, which a financially-strapped RTE desperately needed, would be linked to greater transparency and accountability. The government got some figures in private but it took a Freedom of Information request from The Sunday Times to force partial public disclosure in 2002. Details on the top 27 earners were released but RTE did not put names beside salary figures. The national broadcaster only officially released earnings details in 2004, on foot of an order by Information Commissioner Emily O'Reilly.
The first set of figures covered 2002 and showed Gerry Ryan taking home €601,882 after a contract negotiation, while Pat Kenny received €556,430 for his radio and TV work. Figures published last month covered 2008. Pat Kenny earned €950,976 last year. Gerry Ryan had earnings of €629,865 from RTE in 2008. Others in the top ten included Marian Finucane (€570,000), Ryan Tubridy (€533,333), Joe Duffy (€408,889), Eamon Dunphy (€328,051), Miriam O'Callaghan (€301,667) and Derek Mooney (€286,809).
The media headlines focused on the individual earners but of more interest are the overall totals. In 1996, the top ten had combined earnings of €1.5m as the then RTE director-general Joe Barry revealed this information at an Oireachtas committee meeting. The combined figures for the top ten earners rose to €2.5m in 2002, and hit €4.4m last year.
These totals show that the overall earnings of the top ten increased by 193 per cent between 1996 and 2008 and by 76 per cent between 2002 and 2008. By any standards, these are staggering hikes in the bill RTE faces for its top ten earning presenters.
The increases and those awarded to other broadcasters and non-editorial personnel which remain unpublished deserve far greater public scrutiny. But any debate should not focus on any of the individuals concerned. Pat Kenny and his colleagues at the top of the RTE earnings league are to be commended. After all, their objective, like any party in contract talks, is to obtain the best possible deal for themselves.
RTE management represents the interests of the licence fee payer, each contributing €160 annually, when they sit down with agents representing on-air talent. At an Oireachtas Committee meeting earlier this year, the RTE director-general Cathal Goan described the sums paid to top earners as "viable levels of reward within a competitive environment."
In my previous life as a political journalist, I watched far too many of these encounters. RTE always gets away easily because politicians are afraid to cause upset. Proper parliamentary oversight would mean rigorous and relevant questioning of RTE's payment strategy. Here I should declare an interest, as I worked as a newsroom radio presenter and Prime Time correspondent with RTE from 1995 to 1999 and again from 2001 to 2005.
There is a small pool of talented broadcasters in Ireland. One longstanding justification for the RTE earnings is that in a competitive environment the fees paid lock in talent. But after almost 20 years of licensed private sector competition in the broadcasting market there are few examples of rival stations actually poaching RTE's talent.
Gerry Ryan thought about a move to Today FM and Marian Finucane pondered an approach from Newstalk but, so far, no big names have left Montrose. There is some evidence of mobility in the private sector. Both Newstalk and TV3 decided to continue without the services of David McWilliams, while Today FM and Newstalk had to adapt after the exit of Eamon Dunphy. This churning of talent in the private sector diminishes the argument that presenters alone prop up ratings and advertising income.
Mobility is more common in newspapers but evidence supports the view that stars tend not to be bigger than the media outlet which pays their wages. The biggest transfer in recent years came when Kevin Myers departed The Irish Times for the Irish Independent. The move generated considerable comment but despite Myers' journalistic talent it caused few readers to change their daily newspaper habit.
RTE has never been brave enough to risk losing any of its big name presenters. It would be interesting to see the outcome for the station and the broadcaster concerned if RTE just said no. Churning some of its biggest names would allow RTE to bring in new talent.
In truth, RTE has allowed its stars to become bigger than the station itself. Few of those in the top ten – and most likely fewer still in other undisclosed well-paid places outside this elite group – would exist without the backing of the national broadcaster. It is an interesting question: how many would still be broadcasting stars without RTE?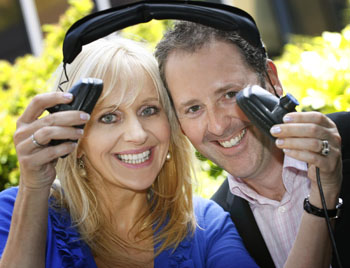 HIGHLY PAID
Miriam O'Callaghan was paid €301,667 by RTE last year, while Pat Kenny earned €950,976. US president Barack Obama's salary is capped at €400,000 (€276,000), while Taoiseach Brian Cowen earns €232,572. British prime minister Gordon Brown gets €221,220 a year.