Agencies face rough ride
Change and how agencies are trying to get to grips with the shifting mediascape was the main topic for debate at a industry conference hosted by RTE, Michael Cullen reports
Stage B in the RTE TV studio was the setting. Pat Kenny and his new current affairs show The Frontline may have replaced John Bowman's Questions & Answers on Monday nights but the learned broadcaster was making a little RTE history of his own by chairing a panel discussion and a Q&A session before an apprehensive audience.
Six leading lights heading up media agencies in the current darkened market were assembled to discuss a quote from Mad Men lead character Don Draper: "Change isn't good or bad, it just is". Whatever about change and the good and the not so good it delivers to society at large, the message that followed from the debate about how media agencies are trying to cope with new realities, was far from encouraging.
The mood was funereal. The lights shone on the men in black, miked up and ready to go. With the congregation seated, the sombreness was tangible. First to pay his respects to the media model that served Ireland for more years than the late Harry Moore would care to remember, Alan Cox. Normally a gentle man, Cox speaks loud and clear when stirred.
He heads up Core Media Group, an agency controversially comprising McConnells and Publicis media units and which RTE has so far refused to recognise. Not one to dilly-dally, Cox's opening line that "spending was down 35 per cent, no growth till 2011" aroused a hummed silence. Cox's homily then took on a mea culpa, self-deprecatory feel when to mass appeal he admitted media agencies can't do a lot about the current mess.
Except, to whinge. "Our job is to sell more stuff for our clients," he thundered as if impersonating Billy Graham in full flow. A media agency has two principal functions. One, to provide strategic advice, for which agencies undercharge; two, to buy media, which means getting the best prices possible for clients. The media's job is to get the best price it can, the agency's task the opposite. That's how the game was played up to now.
Next up to the pulpit, Dave Harland of Omnicom, which houses OMD (as distinct from Orchestral Manoeuvres in the Dark) and PHD in Ireland. The man, who some people say is a double for Arsenal manager Arsene Wenger, said over €70 million has dropped out of the market this year. Sales policies were unchanged for 20 years and it did not help the business. People became good at taking orders and playing golf, Harland added.
Enter Bill Kinlay, head honcho of Group M in Ireland, the umbrella for Mindshare, Mediacom and Mediaedge:cia. Sounding like Bank of Ireland's chief economist, Dr Dan McLaughlin, Kinlay said TV was a commodity to be traded. "Clients come first, they pay our salaries," he added. He had a shot at Tesco and questioned their avowed devotion to their catch-all 'change for good' slogan. Thanks to them, FMCG is in the mire.
Liam McDonnell is CEO, Aegis Media Ireland, with responsibility for Carat, Vizeum, Brindleys and Diffiniti. Brindleys used to clean up on government business, in the days when we had a government that invested in advertising. "I don't think change is good, or bad, it's brilliant," McDonnell said. "Appreciate what you have. Things are tough in media and they'll get tougher, but it's tough for everyone, so just get on with it."
McDonnell said media agencies must protect what they have, like data, tools but most importantly "our people" – and talent costs. The industry has concerns, not least the lobbyists out there trying to undermine advertising with calls for a ban on alcohol advertising. Today alcohol, tomorrow cars, or whatever. A board member of IAPI, McDonnell said those in adland must provide balance or there will be a price to pay.
Last of the multinationals to give his overview was Chris Rayner, who is in charge of Initiative in Dublin. He asked the question was it time for media agency rationalisation. It was an agency's job to be a custodian of value for clients. Too much change in too short a time is how Graham Taylor of GT Media summed up the present mediascape.
"When someone pulls the plug out of the wall, the shock is massive," Taylor said. Advertising is a people business and the recession has not been good for relationships. Long-term relationships are gone and short-term tactics and attempted land grabs rule. As the only Irish agency boss on the panel, he was prepared to say that media is no longer about advertising, it's about money and the 'big players' (fellow panellists) are to blame.
Taylor shared another Don Draper quote: "Advertising is based on one thing, happiness, the smell of a car…" The industry has suffered from economic downturns before and will do so again. He ended his talk with a reassuring thought: "We'll be okay".
During the Q&A, Cox said that advertising is a conservative industry and those in it don't like change. But there must be efforts to stop a race to the bottom. The DTT "vacuum" needs to be sorted out if Ireland is not to become a UK region. Kinlay said people in media agencies have inferiority complexes and this was because many of them had come from full service agencies where they are better at getting properly paid for their services.
He said it was important to keep a balance between optimism and realism. Things are not pretty in adland and 2010 will be tough. The media agency model must change and quickly. McDonnell said agencies' competitiveness was their Achilles heel – there was too much competition out there. He would favour a bigger cake for everyone to enjoy.
Taylor said smaller agencies suffer from economies of scale, particularly in areas such as buying essential research tools, like TAM, which every client demands. Change is good and it will mean media becoming more creative and merging with creative agencies and embracing digital better. There are clients out there waiting to be signed up.
While media owners must accept blame, Taylor added, as they have "the power to say no", the industry must realise that "we're in this together". Media will be put out of business if agencies demand too much on price. David Hayes of Mediaedge:cia accused the panellists of being too negative. He said agencies must prove to advertisers that their investments pay off. The move from commoditisation to fees was a positive trend.
Both Harland and Kinlay praised RTE for staging the i3 (Insight, Innovation and Identity) conference, particularly in the continued absence of an annual media conference. But they said it was unfortunate that TV3 were not invited to participate in the debate, perhaps unaware that RTE and TV3 executives had talks with that idea in mind.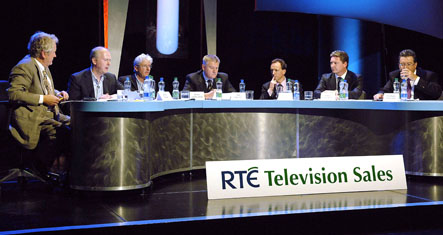 MEDIA HEADS
John Bowman with Alan Cox, Core Media Group, Dave Harland, Omnicom, Bill Kinlay, Group M, Liam McDonnell, Aegis Ireland, Chris Rayner, Initiative and Graham Taylor, GT Media, at the RTE i3 media conference.