Close encounters count for more

Colm Carey on the value of meeting face-to-face and why social networks scoring less with youths
How many face-to-face meetings have you had in the past week? Chances are you attended a number of internal meetings and others with external suppliers or customers. Why did you go to these meetings given that all of the people you met have email and webcams? Why did you not just hook up online using a web meeting, bulletin board or instant messaging?
The answer lies in the fact that we are people first and workers second. We like the multi-sensorial experience that comes with meeting face to face. You can't email a handshake and no amount of smileys can replace a real smile. Things move faster at a face-to-face meeting. The social interaction is gratifying and sparks far more creativity than a virtual meeting.
After the attacks on the Twin Towers eight years ago there was a belief that online conferencing would replace international business travel, but it didn't happen. People still get on planes to go to meetings they could have online.
From a research perspective, there was a view that online focus groups would replace the traditional face-to-face format by providing the same depth of understanding at a much-reduced cost. But the human factor kicked in again and recent trends see a move back to the old format with the use of online methodology as a back up.
The basic unit of currency remains the face-to-face group meeting with online playing a support role. Use online contact to invite respondents to conduct certain tasks before attending a focus group and to perform follow up tasks arising from the discussions. So if the purpose of the focus group was to evaluate an advertising concept, revisions can be checked and approved online. If a new product introduced at a focus group needs evaluating in-home, you can gather feedback using an online bulletin board.
As often happens with new technology, online focus groups made a big impact at first. Their role was over-hyped and the market settled to using online to best effect. Face-to-face meetings may be more time-consuming and expensive but they are the best way to unleash the problem-solving creativity driving business success.
LESS POKE IN SOCIAL NETWORKS
The number of young Britons with a social network profile has fallen while more people from older age groups are joining up. Ofcom reveals that half of all 15 to 24-year-olds had a social networking profile in the first quarter of 2009, compared to 55 per cent in 2008. The over-25s are a growth area with business networking site LinkedIn up an impressive 63 per cent.
The report does not offer reasons why these changes occur. It might be that youngsters are getting bored while the social networking concept is being exploited by business execs looking to boost their careers. So there is less poking and more emphasis on career development as the social networking generation matures.
Bit like life really.
SHIFTING LOYALTY
ESOMAR's Research World magazine contains a UK study by the IPA arguing that brand loyalty has declined in areas with high levels of promotional activity. Focusing on a short term increase in sales may undermine previous efforts to add value.
The report supports its thesis with figures showing that loyalty is higher in the health and beauty sector where there are fewer promotions and lower in soft drinks, household, snacks and alcohol where promotional activity is high.
It's the same old story, the more you give, the less you get.
ON YOUR BIKE
Also in Research World marketing metrics specialist Professor Robert Shaw says marketers should do different things as we move through the bust-to-boom cycle. On the downward slide the shift from branding to short-term spending makes sense.
In the trough, when the bottom is reached, take advantage of low cost media, evaluate priorities and plan for the upswing. When the tide turns, brand spending comes back and it's time to start planning for the next decline advises Prof. Shaw.
Now, if only we could work out where we are in the cycle.
FUNNEL VISION
Research Magazine brings news of a McKinsey paper that claims the traditional funnel model of how people choose and purchase products is out of date. McKinsey says the funnel concept fails to capture all the touch points and key buying factors resulting from the explosion of product choices and digital channels, coupled with the emergence of an increasingly discerning, well-informed consumer.
Due to the shift away from one-way communication, from marketers to consumers, towards a two-way conversation, marketers need a more systematic way to satisfy customer demands and manage word-of-mouth communication.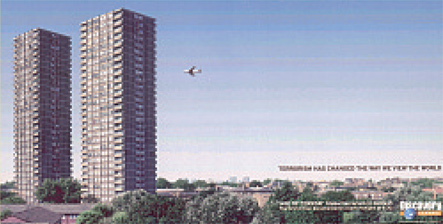 PLANE FEAR
A press ad for the Discovery Channel which shows how terrorism and the events of 9/11 changed the way people view the world. The attacks on the Twin Towers were expected to see online conferencing replace face-to face meetings, but not so.