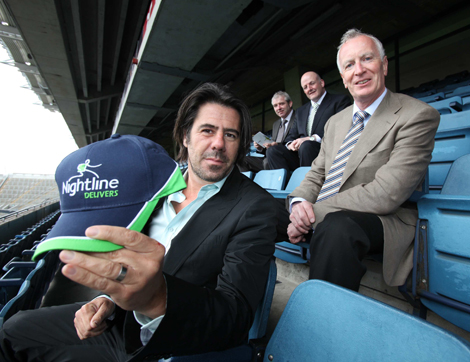 PARCEL DELIVERIES
Jamie Helly, Dynamo and Howard Kent, marketing advisor, Nightline, with the new Irish courier company's founders, Dave Field and John Touhy (background) at the launch in Croke Park. Backed by a €1 million campaign, Nightline's identity was created by Dynamo with advertising by Adept. David Curtin, ex-An Post, handled PR.
JNLR shows strong results for RTE Radio 1 current affairs
Radio listenership figures for the period from April last year to March this year showed a strong performance by RTE Radio 1 and in particular Joe Duffy's Liveline phone-in show which saw a massive 21,000 increase in listeners which brought it past the 400,000 mark for the first time with an audience of 413,000, the JNRS/TNS report showed.
All the top shows on RTE radio recorded increases, with the exception of Gerry Ryan's morning show on 2FM which was down 11,000 listeners at 306,000. The Tubridy Show and Today with Pat Kenny on RTE Radio 1 each added 18,000 bringing up their totals to 333,000 and 310,000 respectively. Morning Ireland retained the top spot with 450,000, up 13,000. Marian Finucane on Saturday was in third place with 359,000, up 4,000.
Over at Today FM, Ian Dempsey, who had lost 1,000 listeners in the last report, gained to 2,000 to have a new audience of 235,000. But Ray D'Arcy was down by 7,000 to 235,000 and Matt Cooper's Last Word evening drivetime show lost 12,000 listeners to land at 192,000. George Hook on Newstalk gained 8,000 and is now at 103,000.
The most listened-to local station is again Highland Radio serving Donegal and the north west. It increased its market share by 2.1 per cent to 62.4 per cent.
RMG Target top direct agency yet again
RMG Target, the below the line agency founded by Gary Brown and which is now largely owned by directors of DDFH&B-JWT, won seven golds, the grand prix and the agency of the year for the fourth consecutive year at the An Post Direct Marketing awards. The awards were presented by British creative guru Patrick Collister.
The golds included two Diageo campaigns – the 'Remarkable experience' relationship marketing programme and the best brand building campaign for Bushmills 'Getting into the Spirit'. Work by RMG Target and Universal Graphics resulted in the grand prix win along with two golds. The agency's other wins were for Superquinn and Premier Foods.
Barnardos, whose marketing director, Ruth Guy, is the current Marketer of the Year, was among the winners too with its Danone 'Big Toddle for Barnardos' winning two golds for The Hive in the best charity and public sector best creative categories.
Burnetts buys Larkin agency
Leo Burnett Associates, the Publicis-owned agency run by Shane McGonigle, has acquired The Larkin Partnership, the agency Martin Larkin set up in 1994 after he quit as Irish International boss. The deal could be worth a few million to Larkin.
Larkin clients include Penneys, the GAA, Chevrolet, the Irish Star and a number of accounts Liam Gaskin brought with him, including Nivea. Burnett's major clients include Kelloggs, Bord Bia, Coca-Cola, Elverys, Maxol and KBC Asset Management.
Also…
Women's fashion and beauty magazine The Gloss is to move from retail distribution to direct circulation through its joint owner, The Irish Times. From September, the monthly magazine founded by Jane McDonnell will be available with copies of the newspaper.
The move will see a major boost for The Gloss circulation of about 15,000. The latest ABC figure for The Irish Times was 115,462 copies. McDonnell's is a former editor of Image, which in the most recent JNRS readership report had 72,000 readers.
Companies in Ireland should make better use of the internet to improve their competitiveness, reduce costs and give them a better chance of surviving the recession, Amas has reported. Writing in the State of the Net ezine, Aileen O'Toole said online was cost-effective, accountable and used well can transform a company's bottom line.
Most Irish consumers prefer companies or brands which sponsor their favourite sport, music, arts and cultural events, research results released by the Online consultancy claims. Spend on sponsorship in Ireland this year is expected to be about €134 million.
Bulmers has reduced the price of its pint cider bottle in pubs to below €5 in a bid to improve sales. The brand's share of the long bottle market is down from 9.4 per cent to nine per cent and in the year to February its pub market share was down .6 per cent.
For all the news and Ireland's top marketing media features, subscribe online now. Other features in the June issue include Kathy O'Meara writing on what men really want and Colm Carey on why online shopping pays dividends. John Fanning reviews Advertising Works 17 and Hugh Oram looks at marketing politics online.