OPPORTUNITIES KNOCK
LIAM GASKIN LOOKS AT A SUMMER OF SPONSORSHIP OPENINGS
Liberty has left an unexpected hole in RTE's potential revenues for the year by exiting the Late Late Show. Vodafone deserting the Dubs has caused a stir in the GAA. In advertising and marketing circles, summer is fondly referred to by many as the silly season as commerce seems to go to sleep in July and August.
But this year the sponsorship scene is wide awake and anxious to do business.
It could be a good summer to put your hols on hold as there are numerous sponsorship opportunities available right across the spectrum, from and €250,000 and beyond. Of course, the high ticket item is the Late Late Show.
The net asking price is a million euro. Whether this is achievable in the current economic climate remains to be seen. There is no doubt that the world's longest- running chat show is a hugely valuable property. Look at what it did for the Renault brand and sales and Liberty certainly earned their pound of flesh.
Love it or hate it, it has huge audience figures and loyalty and depending on your strategy it has a great deal to offer. A retailer with vision would get a great deal out of it, especially considering the probable opportunity for product placement.
The Dubs are looking for a new sponsor. Vodafone's withdrawal caused a shock but when you consider the turmoil in the mobile business and that major commitments for many brands in Ireland have to be approved abroad, it really is no great surprise. If the east coast and Greater Dublin are your bull's eye, the Dubs at €500,000 plus have to be a great buy. When you consider how Cork struggled to replace 02, there might be even better value here.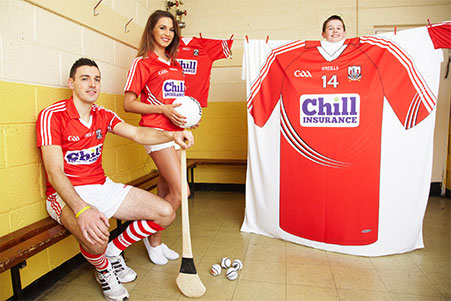 CHILL COVERS CORK GAA
As Dublin GAA looks to appoint a new supporter in place of Vodafone, Chill Insurance signed a deal to replace 02 as sponsor of the Cork football and hurling inter-county teams from minor to senior levels for the next three years.
I am curious as to who will broker the deal for them. If not me then the Brogan boys, Bernard and James, who recently set up Legacy consultants, would be a good choice. Who better to represent them than two All-Ireland medal winners who know how important the right sponsor is for the team but more importantly who know how the sponsor can leverage the assets associated with the support.
The FAI has created a great opportunity for companies to put their toe in the water with soccer. The Dublin Decider will be played between two of Ireland's most popular British clubs, Liverpool and Celtic, in the Aviva on August 10. The FAI owns the rights to this game and will manage it themselves.
The title sponsorship will cost and €50,000 and associate sponsorships €25,000, negotiable of course. The game is expected to be a sell-out. The sponsorship is more tactical than strategic but could give a brand a lift in a slow period and begin an association with soccer. Setanta Sports have retained the rights to Barclays Premiership Football Saturday live games kicking off at 3pm for the next three years and are currently looking for a sponsor. With time running out before kick off in August, there could be good long-term value in this.
The Irish Open golf championship at Carton House in Maynooth, Co Kildare, rolls on without a title sponsor. Since Three mobile decided to transfer to soccer three years ago, Ireland's premier golf tournament's search for a successor has proved elusive, despite the sport's popularity among business executives.
The €2m tournament has the potential to be one of the top regular events on the European Tour. This year's tournament was supported by F