Stout surge comes to a head
Oliver Loomes, marketing director, Diageo Ireland, spoke to Michael Cullen about the celebrations to mark 250 years of Guinness and why it goes on being a brand icon
Only people inhabiting Mars or some other solar system in recent times could have avoided noticing that Guinness is about to celebrate its 250th birthday. What with the Signature campaign and the pub-going flying toucans and chants of "To Arthur" et cetera outside Searsons on Baggot Street and The Stag's Head in Dame Court, the word is out.
Things got going with the return of the old Guinness ads. TV viewers were re-acquainted with the surfer and Joe McKinney dancing around a pint to the Perez Prado tune in 'Anticipation'. We had the joy of watching 30 seconds of darkness settle and the Atlantic seafarers bringing the stout by currach to 'The Island'. This Guinness opus, made by Arks in 1977, was voted Ireland's 'Ad of the Century' by Marketing readers in 1999.
September 24th is the day and 17.59 (6pm) the time when Ireland and the world will be urged to stop in their tracks – just before the Angelus bells ring – raise their glasses and toast the stout that has become intrinsically Irish. Oliver Loomes, marketing director, Diageo Ireland, says Signature is all about Arthur Guinness's philanthropy.
Guinness gave city parks like St Stephen's Green and Iveagh Gardens back to the citizens of Dublin. A quarter of a millennium later, Diageo decided it might be a good idea to set up a fund. For every signature, up to one million, received in pubs and bars around Ireland, Diageo is set to donate €2.50 to the Arthur Guinness Fund.
The monies will be put to use for communities nationwide. Working with Social Entrepreneurs Ireland (SEI), a not-for-profit body, they will select deserving projects. "It's not just piggy-backing on the corporate responsibility trend," Loomes said, "it's about building something long-term with sustainable links to the Guinness brand."
Come late September, they will be on the look-out for about 25 worthy projects and inviting people to apply for funds for community ideas that have reach and big and lasting impact. Over 750,000 signatures have been registered to date, so they are well on the way to reaching the target of €2.5 million, latest by year end but with any luck before then. While Loomes is conscious that it would be wrong to say too much about the sort of ideas that may come their way, initiatives like what celebrity chef Jamie Oliver's did to engender good eating habits in British schools by enticing students to eat nutritional meals in preference to snack foods might tick all or some of the Diageo-SEI boxes.
The 250-year celebrations on September 24th are centred around the pub. A number of top bands will play in the Guinness Storehouse and in 24 bars around Dublin, places like O'Donoghue's on Baggot Street which are typical 'Guinness pubs'. People have been buying tickets for these events without knowing the bands that will be performing.
Pub goers could find themselves listening to Tom Jones and Kasabian and The Enemy, the British rock band, playing to a couple of hundred people under the one roof. An Post issued a special commemorative Arthur Guinness stamp. Other events to mark the 250 years are planned for later this year, details of which have yet to be shared.
Knowing the sense of not making all plans public, Loomes is keeping shtum for now.
That's not to say that Loomes is not a candid character. Mention of the classic ads that Guinness became famous for in the Seventies and Eighties brings a broad grin to his face. Likewise, he's happy to chat about the more current crop of campaigns which Irish International BBDO have done since the Guinness account returned from the UK.
After the heady days of Arks, Guinness moved to London. HHCL was asked to give the brand new gusto which would draw in young drinkers, who up to now were into lager and spirits. The 'Big' campaign went overboard with images of Indians and bulging houses. Guinness began to look as needy as a frustrated teenager in a disco bar.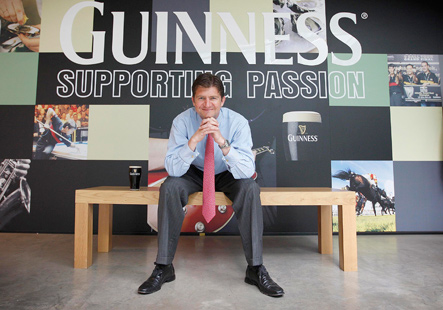 PLAIN TALKER
Oliver Loomes joined Diageo ten years ago, having worked for Mars in Ireland and the UK for seven years. He was born in Liverpool to Irish parents. One in three pints of beer poured is a pint of Guinness; for stout, nine pints out of every ten is a pint of Guinness.
"It's true," Loomes said, "there was a stage when we went down the wrong road. But we've brought Guinness advertising back to its rightful place and that's resonating with consumers. It's part of the reason why people are coming back to the brand and it's getting more popular. It's down to heritage and iconic ads that celebrate the pint."
Beautifully-crafted work like the Guinness 'Christmas' TV commercial with snow scenes from around Dublin city earned attention. As did 'The Drop', where in order to show the things that matter in Guinness drinkers' lives, the ad tells the story of an Irish-American man trying to do his dad a good turn by giving him two tickets to the All-Ireland final.
'Light Show' featured a group of people who invade an office building at night and mess with the lights to recreate the settling of a pint. Guinness 'Dot' was an animated TV spot where actor Donald Sutherland narrated the story. 'Fridge Magnet', which Mal Stevenson and his team also made, is exported all over the world. But possibly the most acclaimed Guinness commercial IIBBDO has done in recent years is 'Music Machine'.
Reviewing the ad in Marketing, Peter McPartlin, strategic director of Carat and a former director of IIBBDO, had this to say about it: "Less hyped and much less expensive than the global 'Tipping Point' ad, it dramatises the pour, surge and settle in an original way. Thankfully, it's low on the usual bunch of happy, smiley people sipping in a pub."
Loomes makes a remark which might make those at IIBBDO sleep a lot easier at night. "I think Irish International really understand our brand, they understand Irish consumers."
On the media front, Diageo recently gave Initiative all of its planning and buying, Carat having handled the planning function. Garbhan O'Bric, a man with a strong pedigree in adland from his days in London, is in charge of group marketing communications.
Loomes is chuffed at how the ties with rugby have worked out. Guinness is the official beer to the Ireland team, Leinster and Munster. The Guinness Series features Ireland taking on Australia, Fiji and South Africa at Croke Park and in the RDS in November. Rugby is a growing sport in Ireland these days as it continues to discard its elitist image.
"It was an urban, Dublin-centred thing and, of course, a bit of Limerick too, "Loomes said, "but now the whole nation seeks to be getting behind rugby." As part of the Programme for Government, there is a review of alcohol sponsorship of sports. There is a working group looking at issues which is expected to report back in a month or two.
Former GAA president Dr Michael Loftus has made repeated calls for a blanket ban on alcohol advertising. In a recent opinion piece in The Irish Times, he wrote that alcohol advertising continues to be associated with masculinity and personal, sexual and social success. Not surprisingly, Loomes disagrees and believes that self-regulation and the efforts of Meas (Mature Enjoyment of Alcohol in Society) are working out well.
"All of our marketing, whether sports-related or not, must be responsible," Loomes said.
"Abuse of alcohol is in no one's interest. What we want is moderate and responsible consumption of alcohol as part of a normal, balanced social life. You don't want to end up with regulation and legislation… no one wants to go there. Diageo has led the way."
In 2004, all brewing for Ireland and the UK was centralised at one site, which meant all the production for Guinness marketed in these islands moved here. In 2005, a €25 million investment programme facilitated a 50 per cent increase in production at the plant. The move resulted in the closure of the Park Royal brewery in West London that year.
Due to the economic downturn, plans for a major new plant at Leixlip have been put on hold. "We want to stop and think," Loomes said, "so it's still under review. I'd expect an announcement on this pretty soon, certainly I'd say before the end of the year."
Results released by Diageo in the year to the end of June showed Guinness sales were up by 1.3 per cent in a market that saw beer sales down by 4.7 per cent. Off licence sales were flat. Globally, Guinness was up by four points. Africa reported a jump of 18 per cent while south east Asia, the brand's biggest market, sales were up by 11 points.
It's not all happy-dappy at Diageo these days. There is the matter of 107 job cuts to sort out between now and November. The move is part of a €100m global cost-cutting plan and the redundancies are said to be coming from marketing, sales, finance and HR, rather than production. Loomes is hopeful the job cuts will be agreed voluntarily.
But now is not the right time to rain on the Guinness parade. Diageo has teamed up with Sky for the first interactive event on the broadcaster's Pub TV channel 881 on September 24th. Loomes said the show is expected to include appearances from Black Eyed Peas, Estelle, Bob Geldof, Guy Ritchie, Carson Daly, Jerry Hall and Sophie Dahl.
Guinness has bounced back from the dark days when blonde beers were making all the running. Against the backdrop of 25 years of share decline a few years ago, the Guinness marketing team said okay, enough! "We said we're not going to be another marketing team that will preside over share decline for Guinness," Loomes remarked.
"We knew we needed to win recruits to the brand and to do that Guinness had to be relevant to today's younger audience and not just rely on being my dad's drink. That prompted the 'Alive Inside' campaign and sponsorships like rugby. A lot of what's we've done on the 250 years is part of that too. Hurling appeals to an older audience."
Whether Loomes will have his head shaved like the Sliotar Man in the 'Alive Inside' poster or keep his Jeff Bridges look on the last Thursday of the month is unknown. One thing's for sure, come 17.59 GMT the craic from St James's Gate to Kuala Lumpur will be mighty. Let the stout settle, raise your glass and together with passion: "To Arthur".