Getting great ads noticed
Owens DDB is one of the few medium-sized agency groups still wholly owned by Irish directors. Directors Mark Hogan and Paul Moran told Michael Cullen about the issues affecting business right now and the chance of more formal ties with DDB
When Mark Hogan, managing director of Owens DDB, is asked what sets his agency apart from the rest in adland, he replies with one word: "Creative". Given the work they did while founder Peter Owens was in charge, for the likes of Aer Lingus, Cadbury, Carlsberg and the ESB, it is no surprise. It is a test the agency has lived up to for years.
Owens DDB regularly tops the agency league of creative awards, from ICAD to the Sharks, Poster Awards to Radio Awards. Given that their international affiliate, DDB, was co-founded by one of the most revered names in advertising history, Bill Bernbach, the man who urged Americans to 'Think small' with VW, it seems entirely right.
There is little danger of those at Owens DDB getting carried away by how many awards adorn their mantlepieces. Here today, gong tomorrow. "Creativity isn't the end-all and be-all," Hogan said. "But it's no coincidence that brands which win awards for us do well. Trusting client relationships and being able to dig deep and understand consumer, brand and market issues allows us to devise strategies which lead to great work."
The loss of Carlsberg was undoubtedly a major blow to Owens DDB. Hogan can pass it off now with a sense of humour: "Probably one of the great travesties to ever happen in advertising!" The review by Diageo proved to be a protracted affair, between them and Irish International BBDO. Ironically, Budweiser had earlier left IIBBDO for DDB London. After about nine months, it was IIBBDO which got to handle Carlsberg.
"You have to take these things on the chin," Hogan said, "nothing stays the same forever despite the work you produce and the recognition you get. When there's a change of management on the client side…" Agencies shudder when a new marketing boss takes over and the immediate concern is with which agency he or she worked with before.
"Clients are under massive pressure no matter what category they're in," Hogan said. "That tends to pass on suppliers. Margins are under pressure and the agencies are having problems with salary costs which got out of control in recent years. There were ridiculous salaries being thrown around the place in an effort to get bodies on to seats in agencies."
Hogan said Owens DDB avoided the pay frenzy to a large extent. They keep a tight lid on salaries and the number of people in the agency. Everything relates to the downturn. The next six months will be crucial and then after that 2010 as a whole. By the time 2011 comes around, there should be some improvement on the business landscape
Owens DDB now has 39 staff, following "an adjustment" back in February when they had to let two people go. All employees took salary cuts of between five and 15 per cent. Hogan admits business has been tough with some months more difficult than others but they are "on plan". The board meet every two months to review how business is going.
Paul Moran said a key factor for the agency, compared to most of their competitors, is that the business is owned by the people in situ. They are not under pressure to plan the business around targets set overseas. Owens DDB has a non-equity affiliation with DDB. They pay a percentage of profits and in return they can tap into the network's resources.
The links give them the same access to databases, talent, archives, creative, research and planning tools that any fully-owned overseas agency may have. Hogan and others go over to London once a year to present their business forecasts. But Hogan would see the relationship with DDB changing with equity on offer – as to when is down to timing.
"We're under no pressure from anyone to be posting cheques over to London or New York every six months or every year so we can plan our business accordingly," Moran said. The agency did an MBO this time last year. The management team that had been in place since 2004 (see photo) bought out the external shareholders, namely Blayney Rice, Tom Doherty, Sean O'Sullivan, Jan Richards, Derek Handley and John Flynn.
"We got a good deal," Hogan said, "below market value and we used company reserves from four years to fund it. The process has been in place for a number of years here and it was the second time a similar transaction was done. We'd hope to bring in a second line of management now and with experience they will be part of that model too."
Moran said that the policy pays off by getting the best talent in town and holding on to them. They see how it works for existing staff who stay with the agency and it avoids the "crazy salaries" from the bubble economy. They recognise the benefits of being in a company that looks after them and gives them the long-term prospect of a board position.
International versus domestic issues are close to Moran's heart. He is concerned at the amount of work – both creative and media – being imported. "Go back five or ten years," he said, "and look at any ad break on TV and the amount of home-grown campaigns compared to today. Advertisers are using more imported international work."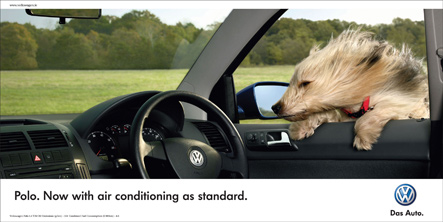 TOP DOG
Owens DDB won gold for the Polo Dog print campaign at the 2009 Volkswagen Global Adwards. An international panel of judges selected the ad as the best Volkswagen print ad last year from 350 entries from the world's top agencies.
While Moran is too polite to name names, advertisers like Procter & Gamble spring to mind. Owens DDB has done some highly-acclaimed work for VW, Friends First and Sony Centres. Their TV ad for Johnston Mooney & O'Brien with the avocado and prawn and skinny latte-drinking Connemara wall builders proved a hit on YouTube.
Not only is there growing concern over the amount of work going overseas but more and more decisions are being taken abroad. With the downturn, a trend that was already in place for years with head office functions going back to the UK and elsewhere to get costs down, is now accelerating. There are far less Irish campaigns being made and old work is being re-run, a trend which prompted commercials producers to slash rates.
Where as up to now agencies would pitch to marketing executives, there is an increase in the amount of presentations to both marketing and procurement people in companies. Moran said that while accounts must make sure the company gets best value, there must be a clear understanding and appreciation of marketing communications. Research findings should be treated with caution and it takes a brave client to recognise that.
Bernbach said research can trap you into the past. Mediaworks carry out focus groups where people are most comfortable and relaxed. Friends get together in an environment where they will call a spade a shovel and steer away from prompts. Feedback from teenagers told them that despite the recession they don't want to miss out on concerts.
The agency brought the findings to life with a low budget campaign for Usit. They placed 50 scarecrows on the route to Oxygen for a Teach in Thailand theme. The scarecrows were 'kidnapped'and the client got messages on their mobiles about people holding them up at the concerts. The scarecrows will probably feature on MTV's Oxygen coverage.
Whether it's a well-planned TV campaign for McDonald's or Trocaire, Moran is regarded as one of the most able and affable media bosses around. Ideas count. Like 'Good News' for VW Passat in the Irish Independent where a full page of 'good news' fictitious articles was run with a quarter page ad for the car created to add extra impact.
So the 'news articles' included headlines like 'Ireland agrees climate swap with Spain', 'Government finds extra €50 billion' and 'Woman has baby, enjoys full night's sleep'. Owens DDB and Mediaworks share clients, they each also do their own thing. For instance, Owens DDB handles Johnson & Johnson, but the media is elsewhere.
Moran predicts media spend to drop by about 30 per cent this year. It is a worry not just for agencies but for media. The amount of media is not sustainable and there will be casualties. Radio and digital have the best chances of survival. The crucial thing is how the industry reacts and it must be said how important indigenous media is to Ireland.
How are all the media being financed? Who's behind them and what's their level of debt?
Cuts in government and semi-state bodies have not impacted too much as the agency has only three modestly-sized accounts in that area – Affordable Homes Partnership, National Consumer Agency and the Action Against Racism campaign run by Lucy Gaffney.
Local newspapers which changed hands at hugely inflated prices is a concern. The roll out of digital TV will probably be put on hold until 2012 and there is no likelihood of a big demand for digital radio. Moran said that the market needs to take a practical look at what is and what is not feasible. He is critical of the new RTE rates policy.
"But to be blunt about it," Moran said, "if I was in RTE's shoes I'd do exactly the same. Their sales were based on a spiral system. If things got deflationary, people could still buy the amount of audience – in this case up to 35 per cent lower than last year – so people were continuing to reduce budgets. But we're here to represent our client."
Only recently, Owens DDB won a big slice of new business from the Quinn Group. Next year, they celebrate 50 years in business. As to whether or not the board will still be an all-Irish entity or whether DDB will acquire a large stake in the company is anyone's guess. For now, survival is the priority.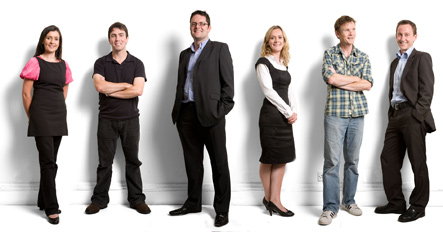 ALL ON BOARD
Seamus Fennessy, Fiona Field, Adrian Cosgrove, John Gildea, Claire Carroll, Donal O'Dea and Conor Hanover joined Mark Hogan and Paul Moran on the board of Owens DDB last year. Hogan expects that DDB may well take a stake at some future date.