Marketers by nature

Val Quinn on women's attraction to marketing and why they tend to perform well
If you look
at business generally in Ireland
it is no surprise that women have come to the fore in recent years. What with
the way the Irish economy has developed, people need a double income to allow
them buy property and enjoy a reasonable standard of living. So women are
staying in business longer and progressing up the ranks.
Two decades
ago, when I did a BComm, there were not many women studying for degrees. That has changed hugely and the
jobs that women have taken on have given them great satisfaction, a pivotal
role in business and financial reward.
So women
are choosing to stay in the workforce longer and are postponing plans to start
a family until about 30. Marketing these days has far more women involved,
while sales is largely male. For evidence of that, go along to the annual
grocers lunch!
Perhaps one
reason why men are attracted to sales so much is because they like negotiating,
doing deals and the short lead-time in getting results. Women, on the other
hand – and again we have to generalise here – tend to be a little more patient
and enjoy multi-tasking and devising strategies. It is no surprise then they
succeed in marketing.
MIGHTY QUINN
After completing her BComm and MBS first class honours degree in 1990, Val Quinn started her career in the UK in sales with RHM and CPC. She returned to Ireland in 1994 and worked for
R&A Bailey for three years as international marketing projects manager. She
joined Mars Ireland in 1997 and had various marketing roles over seven
years.
She joined Coca-Cola Ireland in 2004 as retail marketing director and was promoted to managing director this time last year. She enjoys travel and scuba diving in warm waters.
Quinn is among those managing directors who developed strong business reputations through their marketing pedigree. Others in that regard are Maeve Donovan at The Irish Times,
Anne Sawbridge, who heads up Cadbury Ireland, Elizabeth Reynolds at GlaxoSmithKline and Zoe Kavanagh at PepsiCo International in Ireland.
Public
relations is another area where women are thriving. Given that a lot of PR work
revolves around attention to detail, crossing all the 't's and dotting of the
'i's, the business is an obvious draw for women. But men are changing with
regard to 'soft skills'.
Women
traditionally have been allowed to be in touch and open about their emotions.
That gives them greater insights into what consumers might be thinking. Men
were not appreciated for showing that side. But look at the number of chefs
there are out there, not least the celebrity chef and most of them are men.
Being a chef is highly creative.
Marketing
demands creativity but there is no reason why men should not be as successful
as women in the business. What helps women get on in marketing too is that they
tend to be more tenacious and show a greater hunger to get on in their job.
The balance
has changed. Men are now encouraged to be creative and successful women are
readily accepted. The days when women were afraid to ask for better conditions
and seek opportunities at work, partly because of conditioning from childhood,
are gone.
Once
marketing attracts successful women, which it has done, it triggers a domino
effect. Women coming into the business have the confidence to emulate the
success of others they see around them – people like Orlaith Blaney at McCann
Erickson.
She became
managing director at McCanns (Coke's agency) at 34! She's charismatic and is
far from the stereotypical successful woman we were told should never be nice
or even pleasant to others and must be extremely pushy to get on in a man's
world.
Anne
Heraty, who heads up the CPL recruitment group, has done really well and comes
across as intelligent and media aware. Having a FMCG background myself, the
opportunities for women always present themselves but that may be different in
other areas of business, like, for instance, banking, wholesaling and trading
partners.
It is hard
to find good people in marketing – male or female. There is talent coming up at
a junior level but at middle to senior management, getting good people is hard.
Those that are good, firms will hold on to by looking after them well, by
paying big salaries etc.
Since my
career began, business has fundamentally changed. Companies are results and
research focused and they insist on finding ways to improve performance.
Marketers must be financially savvy, numeric and commercially astute. An
ability to analyse, number crunch and be inquisitive are demands on marketers
male and female.
In an interview with Michael
Cullen
REAL WOMEN

The Dove campaign is one of Val Quinn's favourites. She likes the ads because they get the balance right in highlighting an appreciation of age and beauty.
Choice women marketers
Irish marketing and media boasts a wealth of highly-ranked
females. The following is a list of some of the leading women currently pushing
out the boundaries in the business.
DEIRDRE ASHE, Vivas
Health*
As marketing director of Vivas, Ashe has put her experience
from working in adland with Ogilvy & Mather to good use in the cut and
thrust of Ireland's
health insurance market. The company has a seven per cent share of policies,
insuring over two million people. Brand awareness last year was 86 per cent
prompted and 49 per cent spontaneous.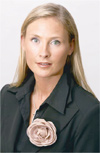 GRAINNE BARRON, Animo
Television
Barron is a shareholder and director with the Animo TV and
corporate video production group working with national and international
clients. She previously worked with NBC in New York
and San Diego
and was sales director at neighbouring Windmill Lane. Last year she completed a
part time MBA at the Smurfit Graduate School of Business.
LORETTA DIGNAM, Kerry
Foods
Two years ago, Dignam was hired by Kerry Foods to head up
the group's convenience food marketing division. Kerry wanted to rival
O'Brien's Sandwich Bars and win a slice of the action with their Freshways brand.
Working with Mars in Sweden
for four years and her part in rolling out Diageo's first 'Drink Sensibly'
campaign stood to her.
RUTH GUY, Barnardos
Guy's career began in 1987 in media buying with AIM and
Wilson Hartnell. She then took two years off to travel around Australia and Asia.
On her return home, she became marketing communications manager with Irish
manufacturer H&K Europe.
She was in charge of fundraising at World Vision Ireland,
before joining Barnardos, the children's charity. Two years ago, she added
marketing to her duties. She has a diploma in advertising from DIT and an MBA from the UCD Smurfit School of
Business.
RITA KIRWAN, Tayto
& Hunky Dorys
To engage the Bebo generation, Kirwan has injected fun and
energy into the Tayto brand with the Mr Tayto election campaign and the character's
more recent quest for a Mrs Tayto. A BESS graduate of TCD, her career began
with a third year college internship trading foreign exchange in Bank of
America in London.
After a summer spent trading currencies, she decided banking was not for her. A
move to Pernod Ricard allowed Kirwan to work on whisky and wine brands in the US and
other overseas markets.

BRENDA MORIARTY, AIB
Moriarty is head of brand management at AIB. Her role in the
switchover from Telecom Eireann to Eircom came in handy when she joined AIB.
She gave the bank a new tone and style, working to the maxim that "banks are
brands too" and advancing the slogan 'Be With AIB'. She has been at the
forefront of AIB's advertising campaigns.
LORETTA LAMBKIN, Dublin Docklands Development
Authority
Lambkin was recruited by the DDDA in 2003 to spearhead the
strategy in rejuvenating the area around Dublin's
River Liffey and the IFSC. Under her direction, the area has been transformed and
continues to add high-profile events and venues. An arts graduate from TCD, she
worked with the Guinness global brand team.
CAROLANN LENNON,
Vodafone
Lennon joined Vodafone in September 1998 and was marketing
director from March 2005. She became consumer director last September. Prior to
joining Vodafone, she was in claims with Hibernian and in IT with Allianz Ireland. She holds a degree in IT and an MBA from TCD and lectures to university
students on operations management.
JENNY MCDERMOTT, Peter
Mark
McDermott shies away from the spotlight, preferring to leave
that to the company's two founders, Peter and Mark Keaveney. She keeps in close
contact with the company's salons network nationwide and is on first name terms
with many staff. Combining strong academic qualifications with street wisdom,
she gets the best out of her agencies.
ANNE MULCAHY, Diageo
Mulcahy made the most of her 11 years with Coca-Cola in Atlanta, London and Dublin and has build an enviable reputation as
someone with a true command of planning, brand management and media. She joined
Diageo in 2001 and is currently head of marketing for their spirits portfolio
and works on the group's global brand strategy.

FANCHEA O'BYRNE,
Johnson & Johnson
In her position as marketing director, O'Byrne has helped to
make J&J Ireland's number one brand in baby toiletries, teen skincare,
mouthwash, pantyliners, hand cream and body moisturisers. Her most newsworthy
was the Irish launch of the Johnson Holiday Skin Body Moisturiser, creating a
new category in gradual tanning products.

EDEL O'LEARY, Ulster
Bank Group
O'Leary has been the head of group marketing and
communications at the Ulster Bank Group for the past three years, in charge of
the Ulster Bank and First Active brands, having joined from 02/Esat Digifone, where
she was the director of communications.
Known for her focus and attention to detail – not to mention
her feisty character – she also worked with one of the best strategists in the
business, Frank Nolan. She was an account director in his agency and her
clients included Guinness and Waterford Crystal.
MEADHBH QUINN, Meteor
Quinn is
head of marketing communications at Meteor mobile operator. Over the last 18
months, the company has picked up silver ICAD and ADFX awards for its 'Man and
Dog' and 'Jealous Girls' advertising campaigns created by Publicis QMP.
Quinn
graduated from UCD in 1992 with an honours degree in economics and history. Her
career began as sponsorship manager for Irish Permanent. She later worked for Independent News & Media, Smurfit Kappa and
ran her own MQ Marketing agency.
VALERIE
RICE, Superquinn
Rice is Superquinn's marketing
and internet shopping director. She played a central role in the launch of the
multiple's SQ premium own label range to rival Marks & Spencer. She joined
Superquinn from Castle Brands, where as commercial director her portfolio
included Boru vodka and before that she was with Diageo and PML.
VALERIE SOROHAN,
IrishJobs.ie
Sorohan expanded
her role at IrishJobs.ie last year by taking charge of marketing for the Denis
O'Brien-owned Saongroup.com recruitment division for the whole of Ireland.
She now drives brand positioning, product development, PR and customer
services. She holds a BA international honours degree from UCD and is a marketing
graduate of DBS.
CAROLINE TOWNSEND, Irish
Life*
Formerly in the drinks business with Edward Dillon, Townsend
led the Irish Life strategy for the pensions for women campaign, raising
awareness of the need for more women to start saving for their retirement, as
they normally have lower pension cover than men. Irish Life saw a 72 per cent
increase in women's policies taken out.

SHARON WALSH, Coca-Cola
Ireland*

As senior brand manager for Diet Coke, Walsh led the team
which was responsible for the brand's turnaround in Ireland after re-defining strategy,
brand revamp, messages and innovations. The ex-Diageo executive shaped the 'Do
your thing' campaign which saw Diet Coke volume and brand affinity/equity
increases and profits rise by 7.5 per cent.

SUZANNE WELDON, BWG
Spar
From her time working in PR agency Fleishman-Hillard to her
marcom role directing operations for Ireland's hosting of the 2003
Special Olympics World Summer Games, Weldon has shown strong focus and talent
for setting objectives and getting results. She is now on the marketing side at
the BWG group promoting the Spar brand.
ROSITA WOLFE, National Concert Hall
Wolfe has used her project management, team-building skills
and a long list of initiatives to raise the concert hall's profile – and all on
a relatively meagre budget. Winner of the Enterprise Ireland national student
marketing award in 1995, Wolfe, from Carragaline, Co Cork, and her team fashioned the NCH silver
jubilee celebrations last year.