Shopping for viewers
Whether they be buyers or browsers, TV3 wants more viewers. David McRedmond speaks to Michael Cullen about the cut and thrust as TV3 re-builds its schedule
To meet up
with Pat
Kiely in the foyer of the Four Seasons hotel in leafy
Ballsbridge and for him to explain being late by saying "I've just come from a
meeting in Croke Park" would have turned heads not so
long ago. Lengthy discussions about Champions League rights yes, but TV3 doing deals
with the GAA would have sounded a little daft.
TV3 was
recently awarded new rights to GAA packages, marking a radical change for the station
that built its strength and image around targeting advertisers in search of housewives
glued to Coronation Street and Emmerdale and with a fulsome diet of
teenagers rushing home to see Buffy the Vampire mercilessly slay all around her.
But that
was in the halcyon days of Granada and Rick
Hetherington, CanWest's man in Ireland,
was running the show. Things have moved on. Major stakeholder Doughty Hanson is
firmly ensconced and David McRedmond,
whom they lured from Eircom, knows about numbers. TV3 is number two to RTE1 and
they mean to keep it that way.
At the most
recent TV3 schedule pitch to agencies and media, McRedmond spoke with some
conviction about the hopes they have of increasing home programming. News and
current affairs are top of his list. The station has since enjoyed some success
with a number of Irish documentaries, including Me and the Big C and the Diary
Of… series.
Paul Williams, crime reporter with the Sunday
World, presented Dirty Money: The
Story of the Criminal Assets Bureau.
Some 298,000 viewers watched the first in the six-part series, giving TV3 its
highest-ever rating for a home commissioned documentary. The Diary Of a Model with the late Katy French also attracted handsome numbers.
After
losing out on the rights to Champions League coverage, last year's Rugby World
Cup in France
was a coup for TV3, not just in terms of viewer figures but because the station
was now identifying with the rugby fraternity which up to now was an RTE preserve.
Greater dividends were thwarted by Ireland's dismal performances.
On the
sports front, people have been critical of TV3 coverage. When TV3 shared the
Champions League with RTE, viewers one night had Bill O'Herlihy in the chair
and John Giles, Eamon Dunphy and Liam Brady as pundits. Over on TV3 the next
night, they had Packie Bonner, Mark Lawrenson and Ronnie Whelan. Hardly a level
playing field.
TV3 has had
little luck either on the chat show front. The vow by Eamon Dunphy that he
would out-class Pat Kenny and the Late Late Show rebounded as RTE reacted
with extreme prejudice. While McRedmond says he would like another shot at TV3 staging
a chat show, it is not a real priority right now as part of "rebuilding the
schedule".
McRedmond
has promised that TV3 news and current affairs will be "quality, distinctive,
succinct and picture-led". He is happy to throw bouquets in the direction of
Montrose, admitting that RTE does "a fantastic job" with its news and current
affairs output. But there must be an alternative and TV3 will provide that by
doing things "our way".
"Given the
company had been for sale for a few years," McRedmond said, "not much
investment had been made in programming. To rebuild our schedule, I told
Doughty Hanson it would take three years. We're now half way through the first
year. By the end of the three years, I'd be disappointed if we didn't have a
chat show and our own drama."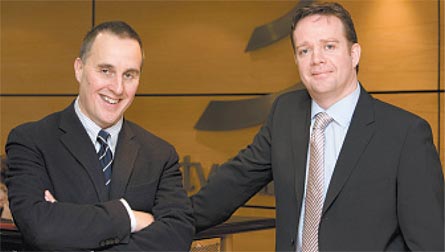 BOX CLEVER
David McRedmond, chief executive and Pat Kiely, commercial director, TV3. To win new viewers, TV3 aims to have more shows which surprise viewers and have an edge. The promise is for extended news and current affairs which will be typically TV3.
McRedmond
knows to walk you crawl first and to "build capability" you must advance cautiously.
Experimenting with new ideas like Ireland AM has paid off and TV3 is the only
Irish station offering a morning magazine style show to compete with UK
offerings. To target young females, TV3 replaced
the second evening news slot with Xpose.
They then hired veteran broadcaster Vincent Browne
to anchor the weekday late night news.
Paul McCabe of MCM Communications makes the point that Browne's arrival has
not as yet meant a big difference in the 70,000 average viewers but the Nightly News profile is now decidedly
more ABC1/55 age group and over and is in stark contrast with what RTE 2 has
done in recent years with its later bulletin aimed at young nighthawks.
Few people
in the media industry know their way around better than commercial director Pat Kiely.
From his days with Saatchi's and DDFH&B, Kiely has learned much about negotiating
and closing a deal. He has steered TV3 and now provides younger audiences –
cheaper than TV3 at times – by selling for Channel 6, Living and Bubble Hits.
Paul Moran of Mediaworks admires TV3 for its
commercial mindedness and how it has shaken up the TV market. "RTE has more
become more professional in its programming," Moran said. Increased competition
from TV3 and other channels has resulted in RTE being more commercial,
particularly in their dealings with advertisers."
On the
issue of home productions, Moran says TV3 broadcasts to make a profit and it is
seldom economically viable to invest in home-produced programming. Much of the
TV3 schedule comprises UK
and US imports. One criticism he would have is that output is too familiar to
UTV and they still have not broken the umbilical cord created by Granada.
McCabe made
the point that TV3 was the first station to break RTE's dominance and put a
competitive edge on the market by allowing freer negotiations. "TV3 costs are
fixed based on ratings, while RTE prices are agreed retrospectively. They might
go up or down on the previous year and that can be tricky for an agency setting
client budgets."
But the
reality too is that TV3 is allowed nine minutes airtime per hour and advertisers
still pay a premium to go on RTE and avoid clutter. Agencies know that while
RTE strength is in current affairs and shows like Tubridy Tonight in delivering young viewers, imports like Ant &
Dec and Heartbeat on TV3 mean
housekeepers and young females.
TV3 needs
to address the audience profile which is heavily biased towards the CDEs
demographics and there is little appetite for TV3 fare among ABC1 social groups.
The station struggles to offer good value for advertising targeting this
audience. Agencies say more quality drama series like The Tudors, a co-production with the BBC, will help.
TAKINGS TO TASK

Sunday World crime reporter Paul Williams presented the Dirty Money series on TV3 detailing how the Criminal Assets Bureau (CAB) came about. The six-part series showed how the ill-gotten gains of drug barons, those with paramilitary connections, white collar criminals like former government minister Ray Burke and thugs were seized by CAB.
Both Moran ad
McCabe are realistic in knowing that TV3 is limited in what it can do on the
home programming front and it is unlikely there will be any dramatic
improvement there for reasons already stated. But advertisers they would like
to see TV3 co-fund more independent dramas and films like the acclaimed The Wind That Shakes the Barley.
TV3 has
recently used production companies like Animo, Praxis and Paradise.
Goldstar Media, run by Colm Burns,
which produced the Drive series in
RTE from 1998 to 2002, has been commissioned by TV3 to produce a new eight-part
motoring programme called Accelerator.
It will be broadcast in October and Burns is on the lookout for a sponsor.
Doughty
Hanson is keen for TV3 to get involved in local radio. Its first two attempts,
the licence for the north-west and the multi-city franchise, both failed. The
application by More FM for the multi-city was turned down by the Broadcasting
Commission of Ireland (BCI) as its revenue projections were considered too
high. TV3 may well try a third time.
"Where we
are now with the TV3 schedule is ahead of my expectations," McRedmond said. "We
must build up our own capability. In my career I've learned that it's dangerous
to have big plans which are too far ahead of your resources. Yes, we'd like to
do more promotions and marketing, but we have to be realistic and programming
is our priority.
McRedmond says TV3 is about ratings and audience
but it is also about building a brand and that means making TV3 a place to
which viewers will turn. He makes an analogy with retailing. People go shopping
for two reasons. They go to buy something they want but they also like to
browse – it is the same with TV. TV3 has its targets set.